Open Daily: 9 AM to 5 PM
Come on down for the season's best harvests, the freshest produce, daily specialties from the deli, premium ice cream, and so much more!
---
---
Red Barn Coffee Cafe
Open Daily – Featuring Locally Roasted Coffee!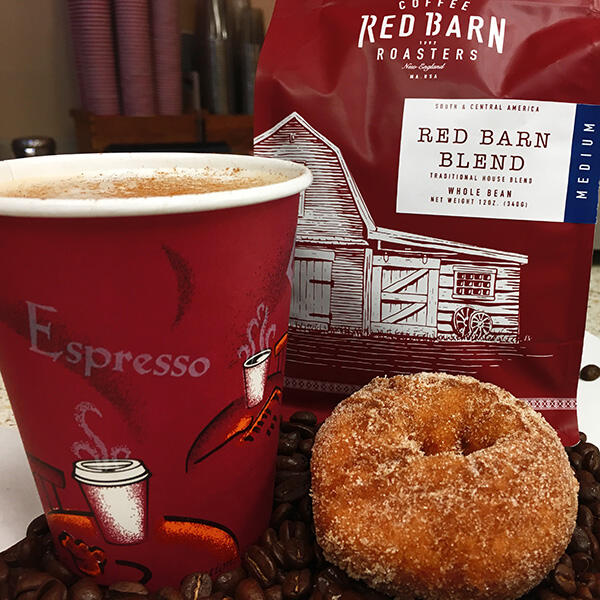 Check out the delicious choices we have available for Red Barn coffee. Try one of each!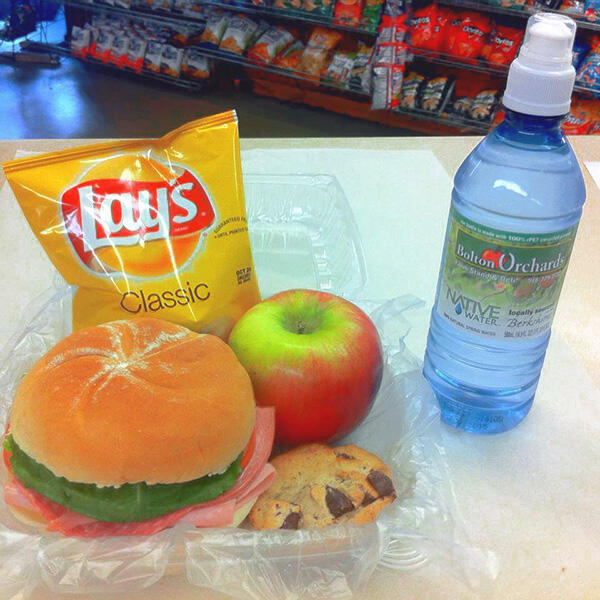 Daily lunch specials, sandwiches, homemade soups and entrees, pizza, and heavenly desserts.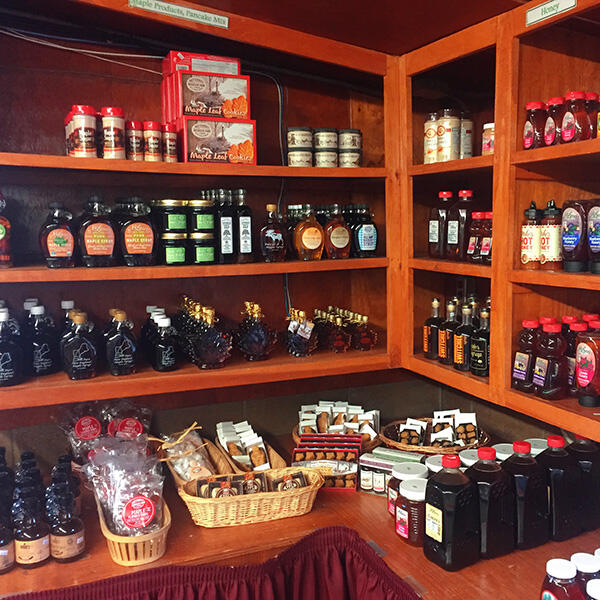 A large variety of N.E. Specialty Products are available to order. See our harvest schedule today!
Deli
The Deli Department is always cooking up some mouth-watering delights. Daily lunch specials, homemade soups, and entrees, pizza, calzones, etc.The deli is also ready to help out with any cookouts or functions with its varied selection of meat trays, fruit trays, and salads.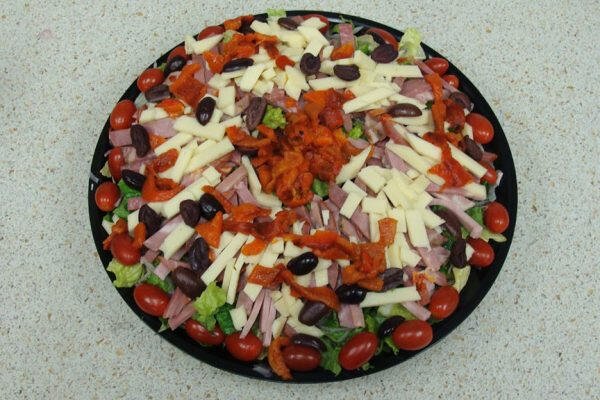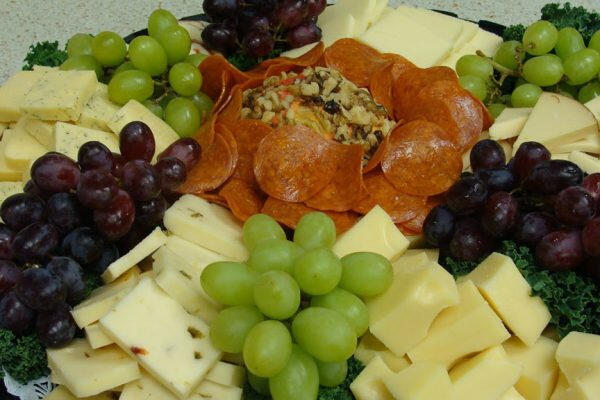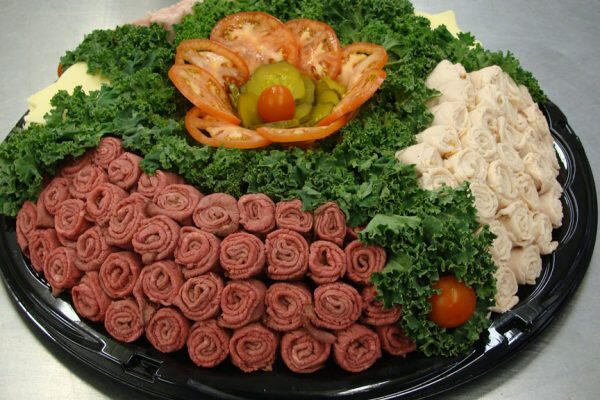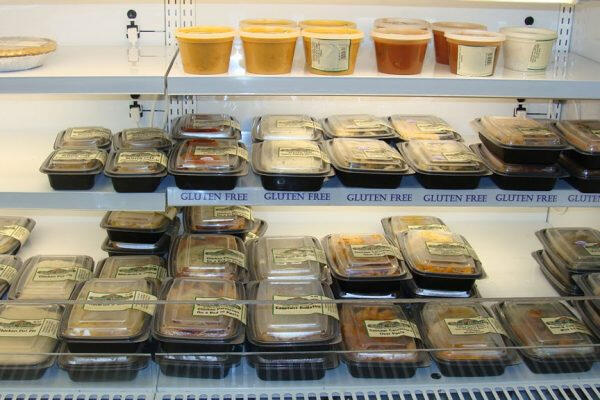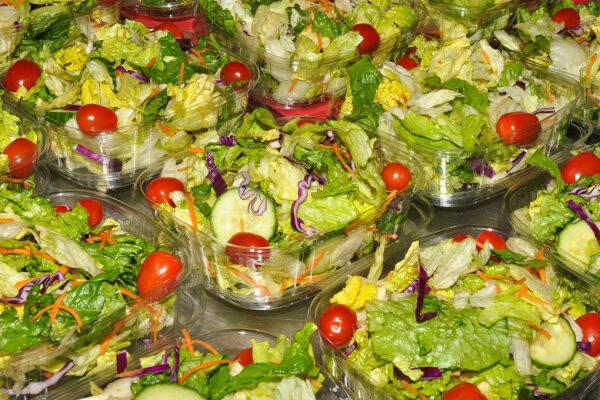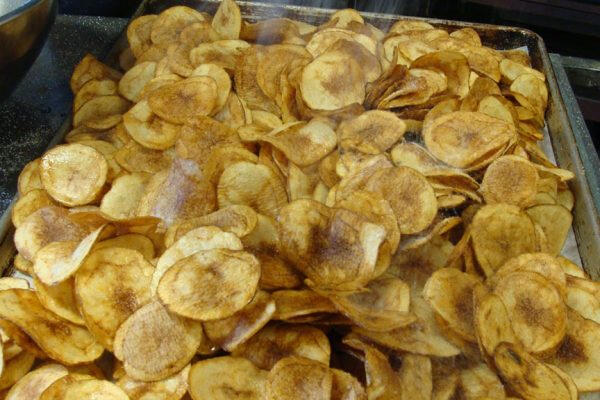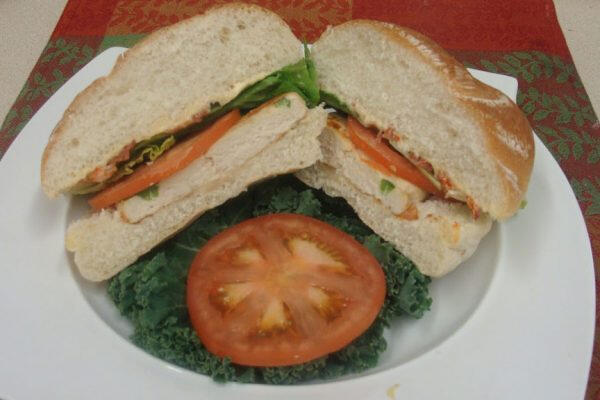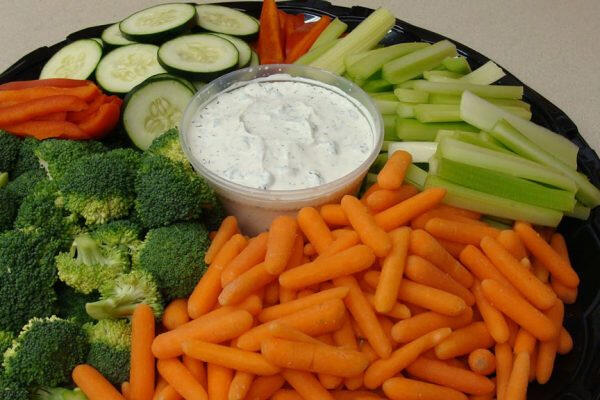 Come in for a sandwich, on bulkie, bread, sub, or roll-up.Try a new one every day. You're sure to enjoy every last bite.
In addition to sliced meats and cheeses, our deli has a wide variety of food to offer customers. In our cases are ready-to-go sandwiches, salads, soups, and fully cooked entrees as well as high-quality beef, chicken, and pork cuts. At the sandwich counter, we serve custom-built sandwiches, hot soup, hot dogs, and on weekdays, lunch specials. Don't forget to try our homemade chips, made fresh every week.
Please call or stop by the store to put in any catering orders, we do not take orders by e-­mail. Deposits are required on all orders. All prices are subject to change without notice, based upon seasonal availability, and are not guaranteed.
Gifts
Need the perfect gift for a special occasion? Bolton Orchards has lots to choose from!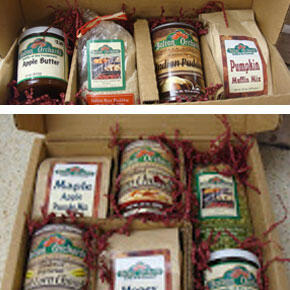 Fruit Baskets
We specialize in creating visually stunning gift baskets filled with fruits and gourmet items. Customized perishable baskets are made within 24 hours of the date and time of order placement. These cannot be shipped but can be hand­-delivered to residents of neighboring towns. In addition to made-to-order baskets, we also keep a few ready-to-order baskets available in the store for your convenience.Typical basket styles: All Fruit • Diabetic • Gourmet • Cheese • Gluten Free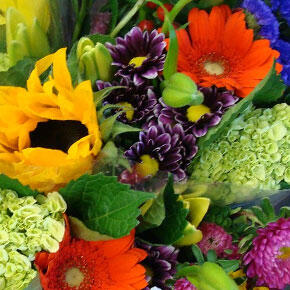 Gift Shippers
Many other non­perishable, in-­store items can be shipped:● Over 35 varieties of Bolton Orchards brand jams and jellies - 8 sugar-­free varieties● Bolton Orchards brand chowders, brown bread, baked beans, and Indian pudding● An extensive line of products including marinades, salad dressings, BBQ sauce, candy, and syrup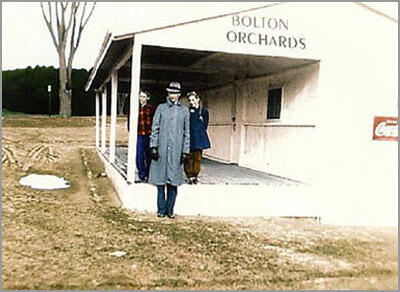 Flowers
Our bouquets of assorted cut flowers are becoming tremendously popular. Designed for longevity using only the freshest flowers, they are available in virtually all sizes and price ranges.
Harvest Schedule
View our variety of Apples, Peaches, and Plums to find their harvest schedule and best uses. Learn about our distinctive apple cider.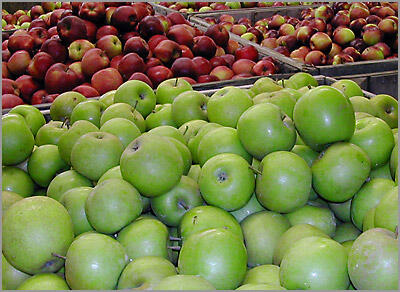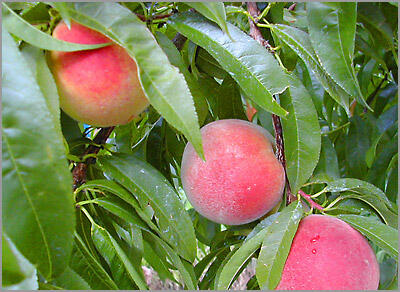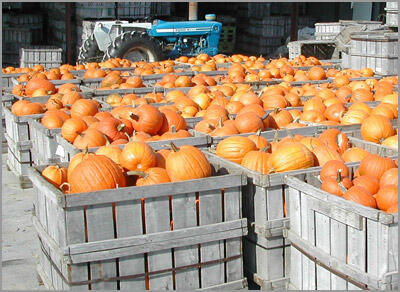 ---
Apple Cider:
Our apple cider blends are truly distinctive. The variety of apples within our own orchard enables us to press rich and flavorful ciders. Unlike most mills, we cold-filter our cider in a high-pressure filter, yielding an end product that is virtually free of sediment. Our light-treatment process ensures that our cider is as safe, if not safer, than any pasteurized product on the market. This process leaves the flavor intact, unlike the "cooked" or "bitter" flavor which often results from pasteurization.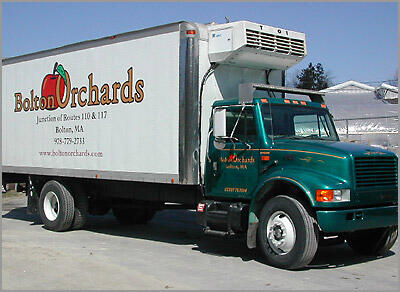 Our cider is pressed frequently and available year-round. From Mid October to late December, we also press a light, sweet, yellow cider called Golden Russet.Availability is limited by the delicate varieties of apples that are used when making this unique cider.
---
In Our Backyard:
Seasonal flowers, plants, and outdoor decorations can be found in our backyard and greenhouse through the spring, summer, and early fall.Stop by regularly to see our frequently changing inventory which varies from hardy perennials and beautiful hangers to herbs and vegetables."
---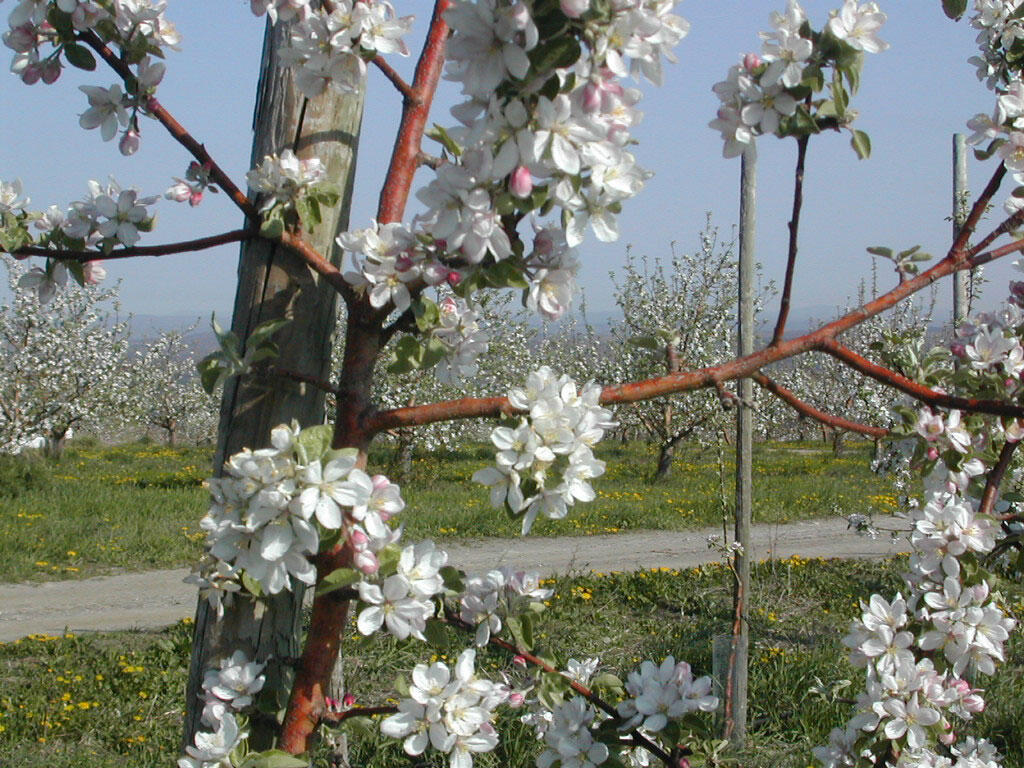 History
The farm began as Davis Farm, a dairy in Sterling Massachusetts in the late 1800s. In 1935, Jonathan Davis became interested in fruit production and bought Bolton Fruit Company, a 200-acre peach orchard in Bolton Massachusetts.Over time, much of the peach orchard was replaced by other fruits and vegetables. In 1945, a farm stand was built at the intersection of routes 110 and 117. Since that time, both the orchard and the farm-stand have expanded significantly.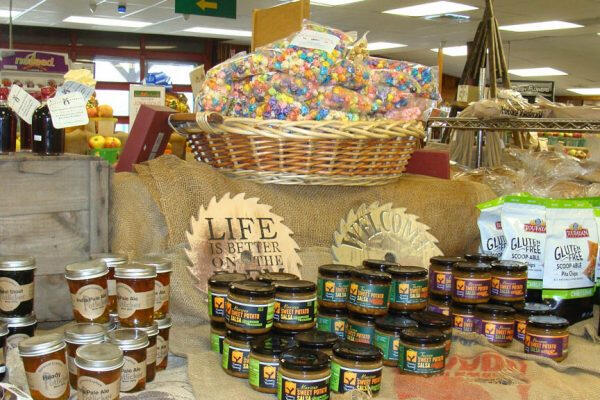 Bolton Orchards' First Market at the
Junction of Routes 110 & 117 – Circa 1945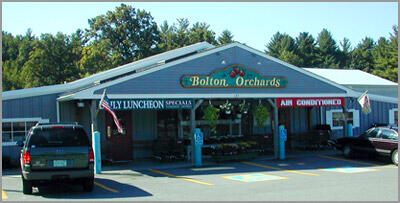 Bolton Orchards today – offering each season's best harvest, plus the freshest produce, gifts, flowers, deli foods delicious fresh-baked delights.
Currently, 250 acres are in active production, producing an assortment of fresh fruits and vegetables including 25 Varieties of Apples, 15 Varieties of Peaches, 5 Varieties of Nectarines, 5 Varieties of Plums, Sweet Corn, Tomatoes, Squash, Pumpkins, and 2 varieties of uniquely pressed cider.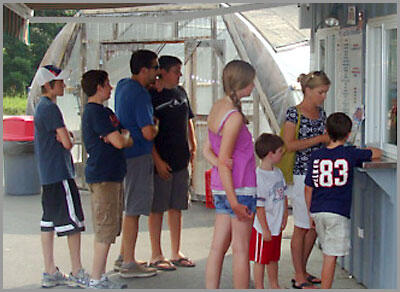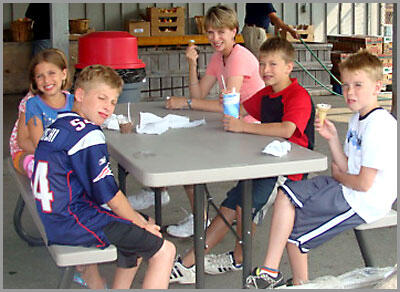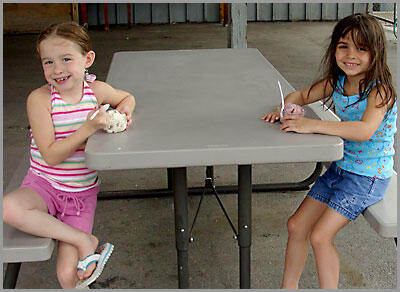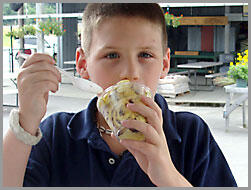 Check Seasonal HoursOur ice cream stand is located in the back of the store with one inside and two outside windows. We feature over 30 flavors of old fashion ice cream from Warwick Ice Cream. Stop by for a sundae, frappe, fresh fruit smoothie, or a classic ice cream cone. We also sell delicious hot dogs!
…buy 12 and the 13th cone free!We're open seven days a week at noon (in season Mid May-September). Scooping all year round, please call for off-season hours. 978-779-2733 ext 15.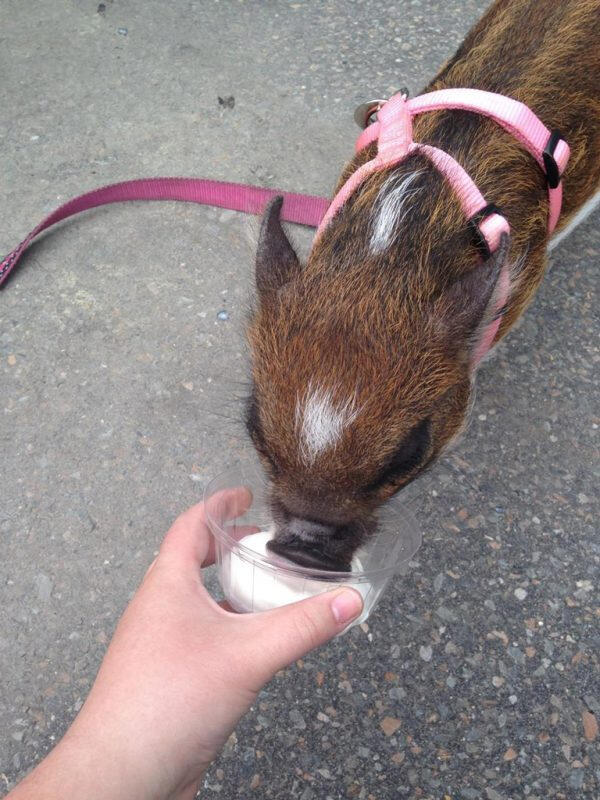 "Come on down for Warwick Ice Cream, or delicious soft-serve ice cream, and bring your friends!" - Lola
Produce
Our own fresh fruits and vegetables are supplemented by the best from leading producers around the world. Our buyer makes trips to the produce market in Boston to select from only the top shipments of fresh produce. Our selection includes a large variety of high-quality fruits and vegetables that are available year-round, seasonal exotic fruits and vegetables, seasonal native and local produce, and homegrown fruits and vegetables.Special requests for large quantities and unique items are welcomed.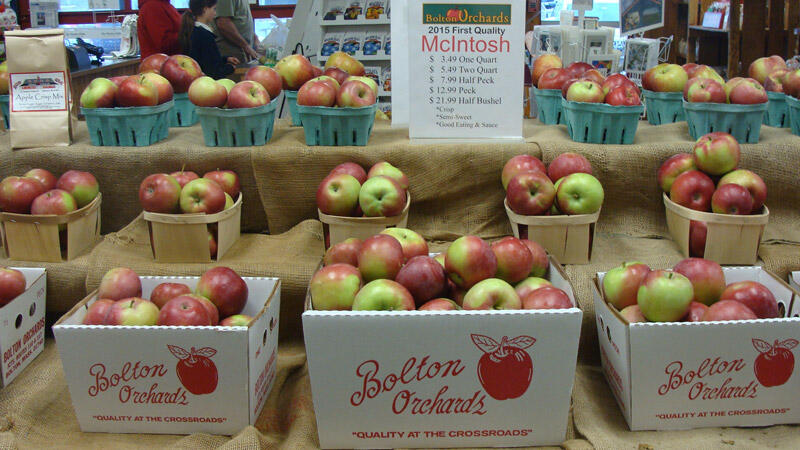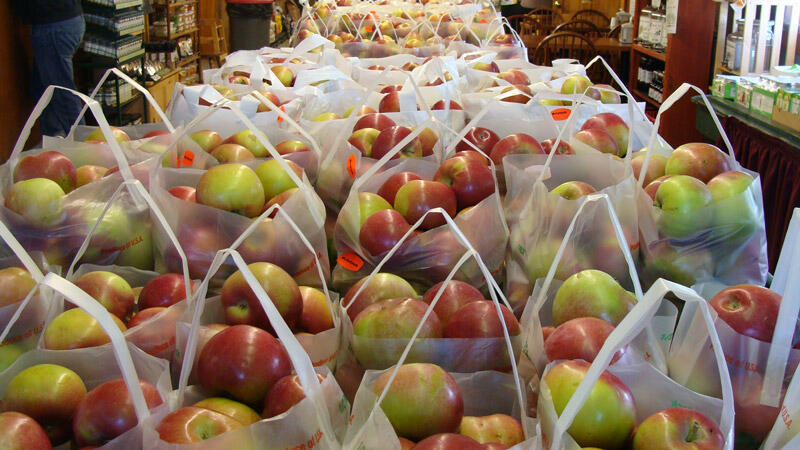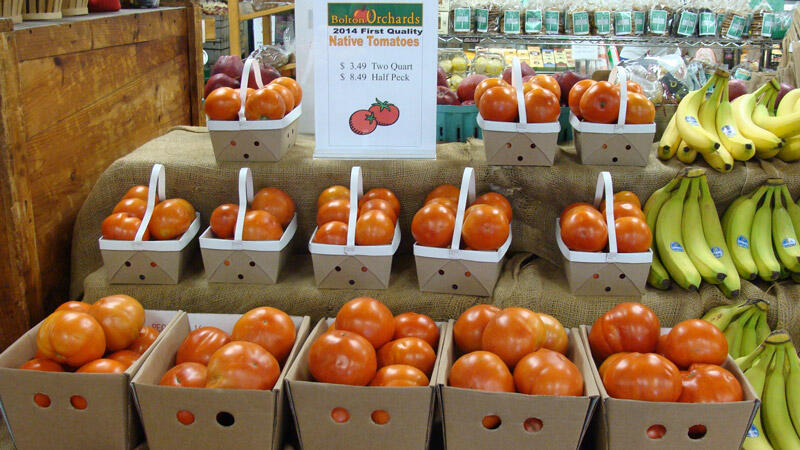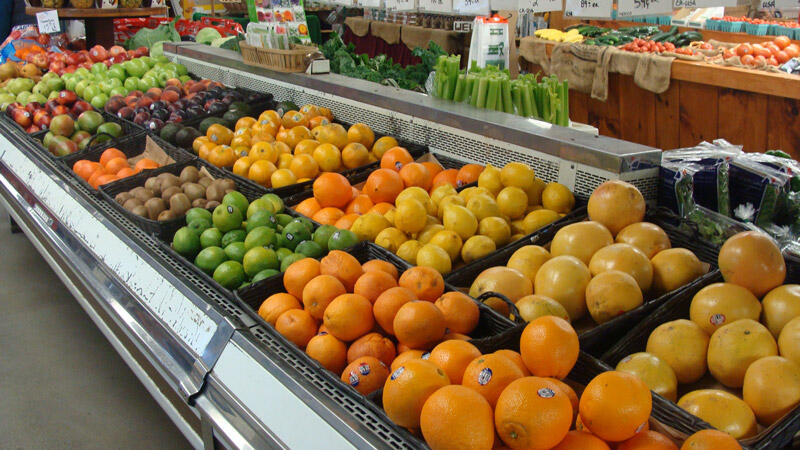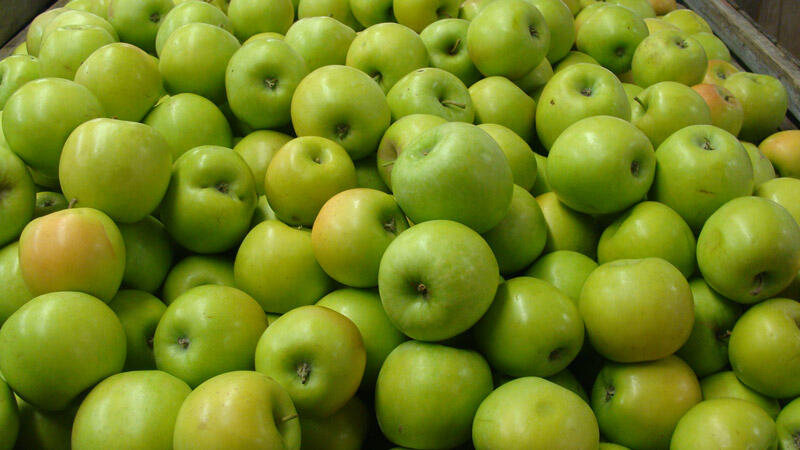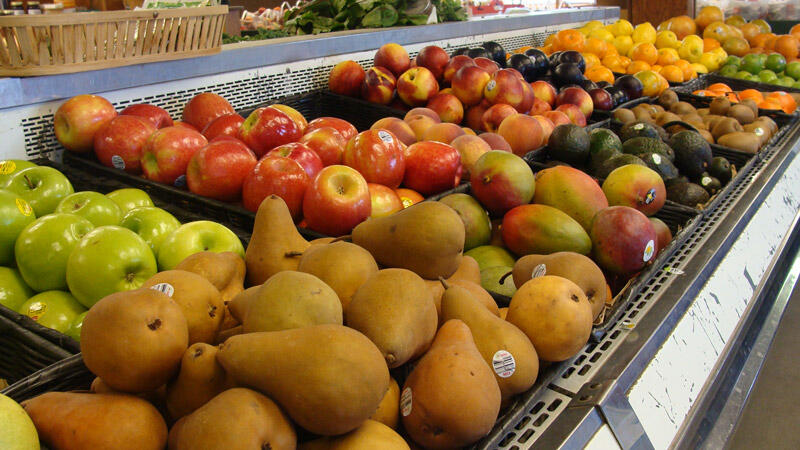 In addition to carrying our own apples year-round, we also carry a variety of seasonal produce from our farm. These include peaches, plums, corn, tomatoes, and pumpkins. We work with a variety of small local farmers to provide our customers high quality, homegrown produce whenever possible.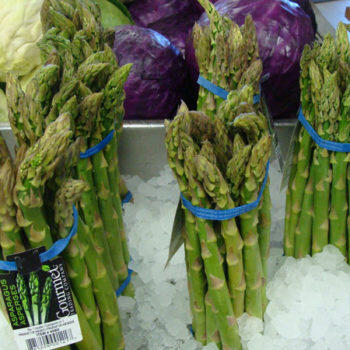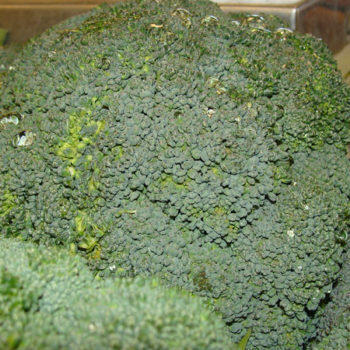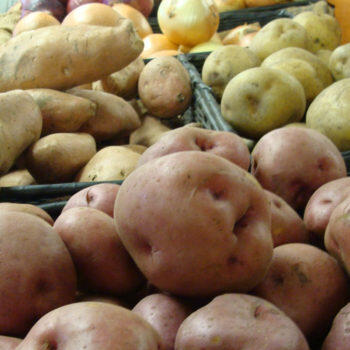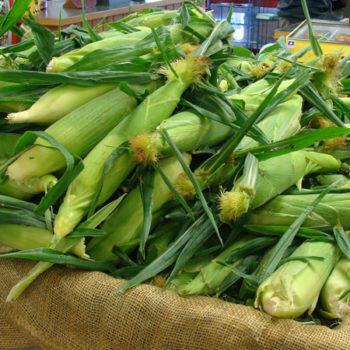 We offer our customers three different options for buying our apples. Our first quality apples have been graded as the best we have to offer and can be found in baskets ranging from one quart up to a half bushel. Our second quality, or utility, apples are bagged and available in a half peck, one peck, or half bushels for a discounted price. Our third, and most popular option is bulk harvest.We always have a variety of ungraded apples in bulk harvest bins that customers can mix and match for just $1.29 per pound.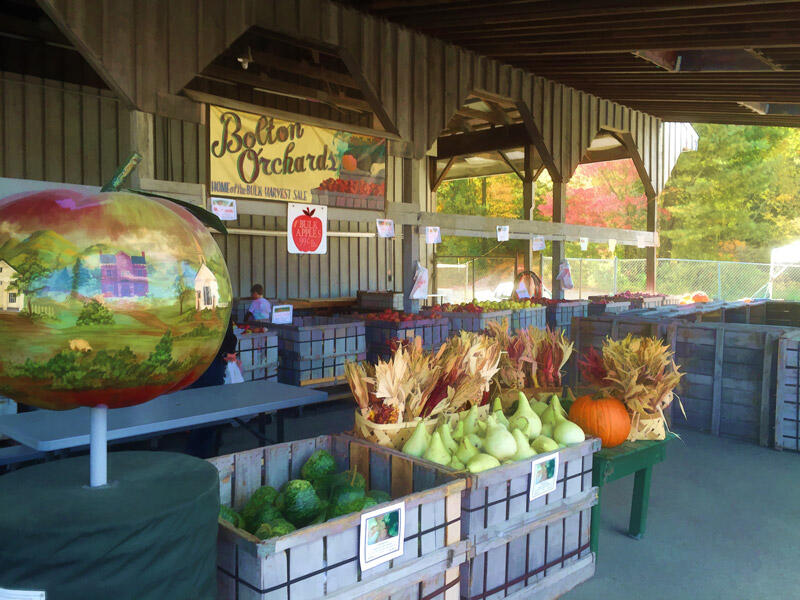 Featuring Locally Roasted Coffee!Coffee · Tea · Cafe au Lait · Espresso · Latte · Cappuccino · Red Eye · Mocha · Hot Chocolate · Soy Beverages · Iced Tea · Lemonades
Flavor Shots (Regular):Caramel · Vanilla · Hazelnut
Flavor Shots (Seasonal):Irish Cream · Blueberry · Peppermint · Coconut
Lemonade / Iced Tea Flavors:Watermelon · South Seas Blend · Mango · Blackberry · Desert Pear · Stone Fruit · Strawberry · Raspberry
Specialty Items
For your convenience, Bolton Orchard carries premium produce, grocery, and deli delights.
---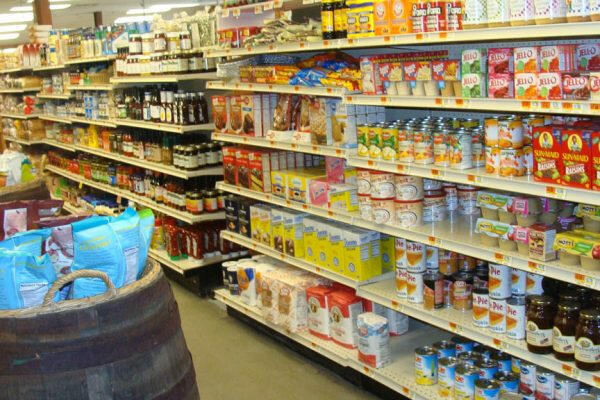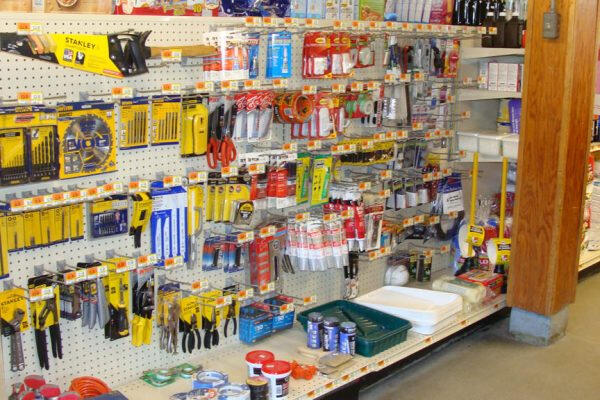 Grocery
To complement our produce, we offer a full line of groceries for the convenience of local customers. Our grocery department includes an assortment of dry and frozen foods, dairy products, bottled drinks, cleaning supplies, and hardware. The perfect one-stop shop for local customers.
---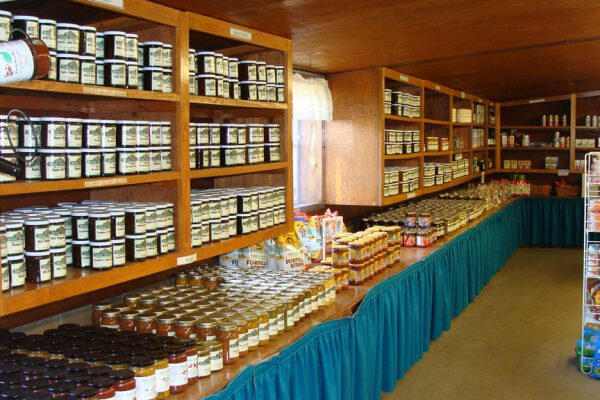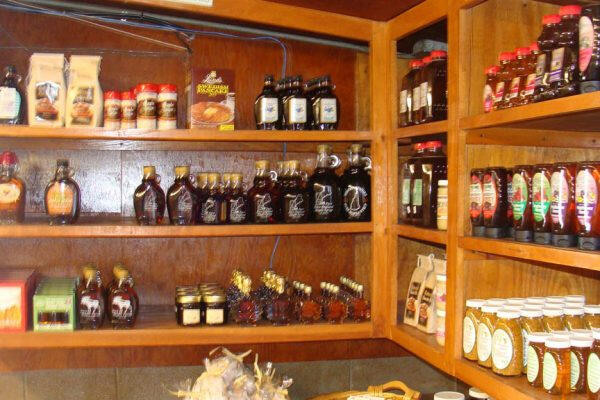 Gifts
From local authors to local artists, we carry unique and eye-catching items. Year-round we carry a variety of greeting cards and home decor items, and seasonally holiday gifts!
---
Gourmet
We pride ourselves on carrying a variety of local and gourmet products. These include, but are not limited to local honey, a variety of jams and jellies, old-fashioned soda, gourmet soup mixes, and handcrafted chocolates. If you see something you like, make sure to grab it as our inventory is always fluctuating!
FEATURED GOURMET ITEM: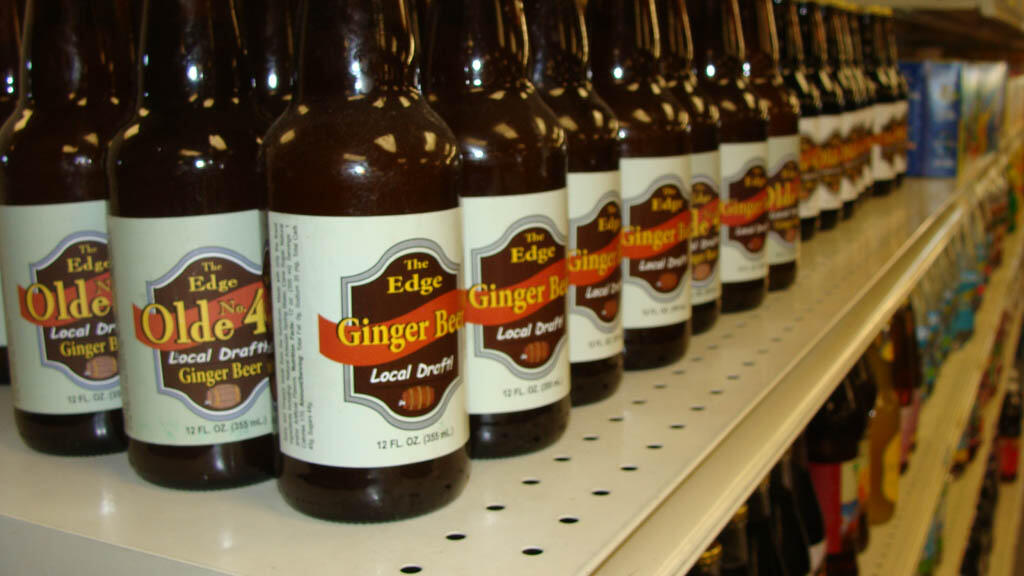 ---
Please call or stop by the store to place any catering orders, as we do not presently take orders by e-­mail. Deposits are required on all orders. All prices are subject to change without notice, based upon seasonal availability, and are not guaranteed.